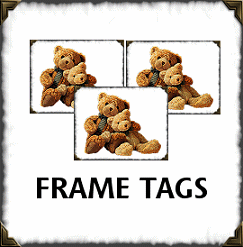 Click on the diagrams to see full size image
OPEN A NEW IMAGE 250x250 BACKGROUND TRANSPARENT.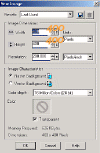 WE WILL RESIZE THE IMAGE AT THE END, BUT A LARGE WORKSPACE IS EASIER TO WORK WITH.
Open your image and resize all layers to make the longer side no more than 150 pixels.
Add a background colour to the tube on a separate layer.
You can use the same picture or you can use three different ones, your choice.
There are many sites on the web where you can get vintage, copyright free images. Some of the tags I have made using this method use these. The method is the same.
I am going to show you how to make a tag using just one image, in keeping with the quick and easy tutorials I promised, but you can easily make 3 different frames.
Go to Images>Picture Frames>Corners album
Check Frame inside of image.

Click OK.
Merge Layers
Edit Copy
Edit paste as new layer into the Image you opened to begin with.
Duplicate this layer twice, giving you 3 layers of this image.
Using your deform tool move and rotate the images to a position you like.
Select the font of your choice and the colours patterns of your choice to add wording.
I recommend you have your font settings as Create as Vector as this creates a new layer.

Position your text to the height you require and then use the following command to centre it.
Go to Objects>Align>Horiz.Centre in Canvas
MERGE VISIBLE LAYERS.
Finally resize your image down to 250pixels.
OPTIONAL
Select a colour from your image using the dropper tool

Fill bottom layer with colour (Raster One Layer).
Select Image>Picture Frame and choose any frame.
Finished!
Gallery